Adam Johnson
7 Adaptations I Want to Write | WEEKLY 7
While I present myself as a film critic on this website, I see myself foremost as a creator. I love the screenplay form and studying other creatives do their thing. In fact, today I interview one great creative I know, and I hope to do more of that in the coming months. But today, to celebrate creators and show a little bit of my creative writing mind, here are 7 Adaptations I Want to Write!
The Secret Garden
No, not the book, but the 90s musical. It's not canonized like Les Miserables or a Phantom of the Opera, but it's probably the musical I've seen the most through student productions. In fact, if you scour the archives of my old blog, you'll see I once auditioned for this show (reader, I did not get the role). The music and story have become ingrained into my memory, and I recently rediscovered the show. This is a musical that deserves a cinematic adaptation, a wonderful and emotional tale for all.
Urinetown, the Musical
This, friends, is my favorite musical of all time. In fact, it helped save Broadway after the 9/11 attacks devastated business on the Great White Way. It's not only historically significant, but it serves as a wickedly funny satire of musicals, including Les Miserables, and as a interesting object lesson on Robert Malthus. I often wonder why it hasn't been adapted to film yet, but at the same time, there is some intertextuality that may translate better on stage than on film. Still, I think it would be an interesting experiment to translate what makes this show great.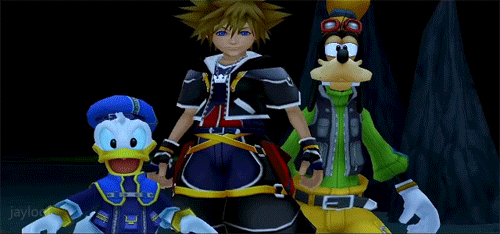 Kingdom Hearts
Fittingly, the long-awaited Kingdom Hearts 3 is released next week, and I'll certainly get around to it at some point of time. An cinematic adaptation of these games is something I think about maybe three times a week. I imagine the studio, budgetary, and audience obstacles and what elements would have to be erased, retained, and rearranged to make it faithful but unique and comprehensible. While I'd be happy to see any new representation of my favorite video game, I would be honored (and nervous) to tackle an adaptation. In the meantime, though, check out my pal MissClick Gaming tackle the games for the first time!
Space Mountain
The world of Tomorrowland has so much potential. In fact, when I first thought of what a Space Mountain movie could be, I thought Brad Bird could continue Tomorrowland heroine Casey Newton's journey with an adaptation on the hit Disney ride, considering her character's love for space exploration. While that sequel is never happening and theme park movies are no longer in vogue, I think a Space Mountain film would be fun. I never got on board with Max Landis's concept for this movie. But I think that a film which honors the legacy of the Tomorrowland section of the Disney Parks and which translates the sensations of the attraction from entrance to exit would be a really interesting project.
The Mysterious Benedict Society
Whenever I hear about a YA book adaptation, I give up on it, usually unfairly. They all tend to reside in a dystopian space with vaguely familiar rules and mythologies, like The Darkest Minds, Mortal Engines, and The Host. Some of these stand out, like Harry Potter and The Hunger Games. Others are more grounded and received huge critical acclaim, like Love, Simon, The Miseducation of Cameron Post, and The Hate U Give.
The Mysterious Benedict Society falls somewhere in between, living in the real world but having a Potter-ly sense of whimsy and quirkiness throughout. Though I only read the series once in middle school, there are key scenes and elements I still think about in my 20s. While all children should read these books, I'd love to see a new generation introduced to these adventures through the silver screen, even if the last scenes of book three overstep into fantasy.
Till We Have Faces
Next to Fahrenheit 451, this is my favorite book. I find C.S. Lewis's beautiful adaptation of the myth of Psyche and Cupid enrapturing, meaningful, and one of the great literary and Christian works, far beyond the more well-known Chronicles of Narnia. I think it would make a beautiful film, but it presents a number of challenges. The novel is written as an accusation and an apologetic addendum, which have a unique power in this context. The main character's face is also mostly covered. But it is a challenge I would love to give myself, and one I'll ponder during my anticipated reread.
The Book of Ecclesiastes
This one is interesting considering this is biblical literature without an obvious plot. One may be able to interpret this as an epilogue to King Solomon's life, but then I would have just said, "I want to adapt the life of Solomon." In fact, I think the stories of the nativity, King David, Paul & Timothy, and the prophet Jeremiah would be far more interesting for me to explore.
No, I mean I want to translate this poetic wisdom essay into an avant-garde piece and translate the ideas and literary devices to frame and sound. I think it would be an exciting and epic undertaking, experimental unlike anything in Christian cinema, which too often plays it safe for sermonizing. Ecclesiastes is one of the more unusual books in the Bible, and an unusual interpretation of my favorite Bible book seems appropriate.